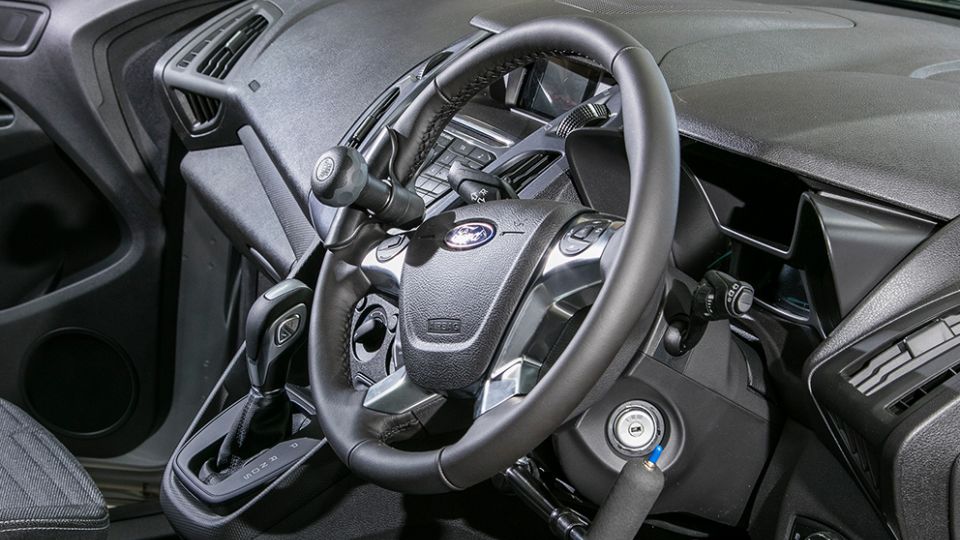 Are you thinking about having Hand Controls fitted to your vehicle?
If you are confused by the many different types of Vehicle Hand Controls available and don't know where to start, we can help. Here at Driffield Mobility we have over 20 years' experience fitting a wide range of controls. In fact, around 30% of the vehicle adaptations that we fit are hand controls to help with your driving mobility.
Hand Controls allow you to operate the brake and accelerator using only the hands, they assist those with lower limb disabilities or weakness to remain driving and ultimately maintain independence. Hand controls will help to keep you motoring.
Here are a few things to consider helping you make an informed choice.
IS MY VEHICLE SUITABLE FOR HAND CONTROLS?
Hand controls are only suitable for automatic vehicles. These can be hybrid and fully electric, as well as petrol and diesel engines. For safety reasons, even if you only have a right leg impairment. You would struggle to change gear, accelerate or brake using hand controls while trying to steer all at the same time, for this reason we will not fit hand controls to vehicles with a manual transmission.
WHICH HAND CONTROLS DO I NEED?
Hand controls for accelerating and braking come in several different forms, including, Radial Hand Controls, Trigger Throttles and Floor Mounted, with many more for controlling your vehicles secondary functions eg, lights, indicators, horn etc. Finding hand controls to suit your own specific needs has never been easier.
HAND CONTROLS FOR ACCELERATION AND BRAKING ONLY
The Push/Pull Brake Accelerator is our most popular option, this adaptation is easy to operate and fitted to the steering column. Enabling the driver to safely brake and accelerate using one hand to operate a very user-friendly lever. Simply pull the lever to accelerate and push the lever to brake. The movement of the steering wheel is unaffected, and the vehicle's standard floor pedals are left in place, especially beneficial if your vehicle is driven by someone else as well as you.
The Throttle Ring with push brake is another popular alternative. An unobtrusive design that blends in with your vehicle's interior, fitting just over or under your existing steering wheel. The ring requires very little pressure to operate, eliminating fatigue while driving and offering superior control and comfort.
In addition, as a further safety measure, sudden braking overrides the accelerator, preventing accidental acceleration. A great choice if you don't like the idea of a lever for both acceleration and braking, the Throttle Ring allows both hands to remain on the steering wheel in a comfortable driving position while accelerating.
Depending on which model you choose (under-ring or over-ring), simply squeeze the ring towards the steering wheel or push the ring away to accelerate. Braking is achieved by a discrete lever fitted to the steering column.
The throttle ring hand control comes complete with a power reduction button, giving the option of choosing between 100 % and 50% accelerator power. Ideal for town and city driving where full acceleration power is not necessary, enabling easy, slow, and precise acceleration in traffic and easy parking.
The Electronic Trigger Throttle is another excellent choice. Its design is based on the Push/Pull Hand Control, pushing forward to brake and pulling back to accelerate.
This device gives maximum control over the brake and accelerator with minimum effort. Perfect for those who drive long distances. It enables a driver to operate the vehicles acceleration from a trigger on the handle of the Hand Control.
Braking is achieved by pushing down in the same way as the Push/Pull system. The whole system is very light, accurate and responsive. Another great benefit of this hand control, reverting to your vehicles standard foot controls is as easy as pressing a button. A must if you share your vehicle with someone else.
STRUGGLING TO COMFORTABLY OPERATE YOUR VEHICLES SECONDARY FUNCTIONS WHILE DRIVING?
If you feel you would feel safer and more comfortable operating all the functions from one convenient place, there are options available to you. The majority of hand controls can be easily fitted with a toggle indicator. This will allow you to operate the indicators without removing your hand from the hand control or steering wheel, allowing continuous superior control of your vehicle, while in motion.
WANT TO KNOW MORE?
A few of the options available have been mentioned here. For more details and a chat about your requirements, our experienced staff are here to help and answer any questions you may have. We tailor every set of hand controls to the needs and requirements of each customer, finding the best solution to your everyday needs. Hand controls are available on the Motability Scheme.
WANT TO SEE FOR YOURSELF?
We have a steering wheel display featuring hand controls and a range of controls for secondary functions for lights, indicators etc, here in our showroom. Come along and see how they work.